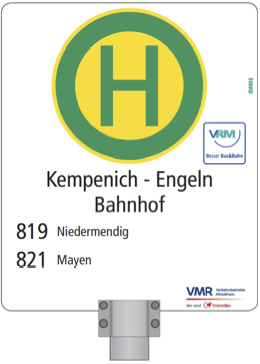 Good news for all discoverers of the Laacher See volcanic region: Our "Vulkan-Expreß" offers daily connections to local bus routes to other touristic destinations in the region! Combine your trip with the Brohltalbahn with a visit to Lake Laach with the Maria Laach monastery, to the Lava-Dome volcono museum at Mendig or to Bürresheim Castle! You can conveniently get the tickets for the bus from the bus driver.
We have compiled detailed suggestions for combining your excursion with a visit to the above-mentioned destinations for you under Downloads as PDF. For every operating day you will find tour suggestions for mornings, afternoons or for all-day tours.
Bus Line overview
Engeln Station

From Engeln station in the summer half-year, public bus lines run daily to interesting destinations in the volcanic region:
Line 819 "Freizeitbus Vulkanpark": The line brings you Mon-Fri twice a day with connections to our trains and on weekends every two hours to Lake Laach with Maria Laach Monastery and to Mendig (volcano brewery, Lava-Dome volcano museum and train station with connections to

Koblenz

)

.

With a change into line 810 at Lake Laach you also get to Niederzissen and Sinzig.

Timetable
Line 821 "Radbus Nettetal": Every weekend the Cycle-Bus takes you to Kempenich and further to Rieden forest lake, to Bürresheim Castle and to Mayen.

All buses have a holder for bike transport so that you can easily take your bike with you

.

Timetable
Niederzissen station

At Niederzissen train station you can also switch to hourly or bi-hourly bus routes through the volcanic region and thus reach other destinations:
Regiobus line 800: Every day at regular intervals (Mon-Fri every hour, Sat / Sun every two hours) the Regiobus 800 runs from Niederzissen train station in the direction of Königsfeld, Ramersbach and Bad Neuenahr-Ahrweiler.

This line is ideal for your tour planning in the direction of the Ahr Valley.

Timetable
Regiobus line 810: Line 810 takes you to Sinzig train station as well as to Maria Laach, Mendig and Mayen.

By changing to line 819 at Lake Laach you will also reach our Engeln train station.

Timetable
More information and all timetables you will find online on www.vrminfo.de.